updated 10-21-1999

The Featured City:


ALTO
POPULATION: -- 1,071 &nbsp &nbsp &nbspALTITUDE: -- 433 feet
(population estimated in 1993)

GENERAL -- Originally a stop on the Old San Antonio Road, town is tomato-growing center in redland belt. Name derives from Spanish word for "high" (highest point between Angelina and Neches Rivers.) The grave of Helena Kimble Dill, believed by many to be the mother of the first Anglo child born in Texas(1894) is here. (Jane Long, of Galveston, often is credited as mother of Texas first Anglo child in 1821.)
Caddoan Mounds State Historic Site -- A chief archeological sit in Texas. Park includes full-size replica of Caddoan house built with Stone-Age-type tools, visitor center with exhibits, interpretive trail. Two ceremonial mounds 300-350 feet are remains of Indian culture. Six miles southwest on Texas 21.
Davy Crockett National Forest -- Nearest entrance southwest 6 miles on Texas 21.
Mission Tejas State Historic Park Scenic Drive -- Exceptional scenery of forested hills and streams lies along US 69, Texas 21 (El Camino Real) and numerous local roads around Alto.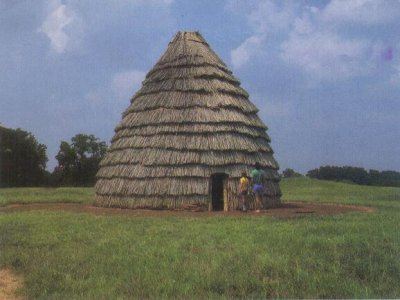 "Reconstructed Caddoan House at Caddoan Mounds State Historic Site Near Alto"

Return to

TEXAS