9200 B.C.
--Paleo-Indians migrated into the Texas panhandle.

1519
--Alonso Alvarez de Pineda sails along the Texas coast.

1528
--Alvar Nunez Cabeza de Vaca becomes shipwrecked on Galveston Island.

1541
--Fransico Vasquez de Coronado explores the Southwest and discovered Palo Duro Canyon.

1542
--Luis de Moscoso of the de Soto expedition explores East Texas.

1681
--Franciscan missionaries established Ysleta, the oldest surviving settlement in Texas.

1685
--La Salle builds Fort St. Louis at Matagorda Bay.

1700
--Comanche Indians acquire horses.

1718
--Franciscan missionaries establish the Alamo.

1758
--San Saba Mission is destroyed by Comanches.

1759
--Comanches and their allies defeat Parilla.

1785-86
--Jose de Evia maps the Texas Coast.

1821
--Jean Laffite is forced to leave Galveston Island.

--Jane Long gives birth to the first Anglo-American child in Texas.

--First settlers arrive at the Austin land grant.

1835
--Texans challenged Mexicans at Gonzales in the first battle of the Texas Revolution.

1836
--Texas independence is declared.

--Battle of the Alamo is won by Santa Anna. All Texas defenders are killed.

--James Fannin surrenders at Goliad and 342 Texans are executed.

--Sam Houston defeats Santa Anna at the Battle of San Jacinto.

--Nine-year-old Cynthia Ann Parker is kidnapped by Comanches.

--Augustus C. Allen and John K. Allen founded the city of Houston.

--Sam Houston is elected first president of the Republic of Texas.

1838
--Michael B. Menard founds the city of Galveston.

1839
--Lone Star Flag is officially adopted by the Republic.

--Cherokee Indians are defeated and pushed out of the Republic.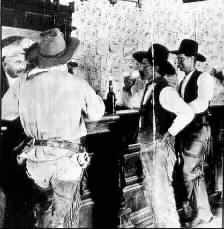 (Cowboys inside the Equity Bar in Tascosa.)
1840
--City of Austin is established as the capital.
1842
--John Neely Bryan founds the city of Dallas.
--Galveston News, the oldest continuing newspaper in Texas, begins publication.
1843
--Captured Texans of the Mier expedition are forced to draw for the black bean to determine who will be executed.
1845
--Texas joins the United States.
1846
--Battles of Palo Alto and Resaca de la Palma begin the war with Mexico.
1849
--Fort Worth opens as a military post.
1850
--Texas boundries are redrawn to the present lines as a result of the Compromise of 1850.
1852
--Richard King purchases land for the King Ranch.
1853
--The Buffalo Bayou, Brazos and Colorado Railway began operation as the first Texas railroad.
1854
--First telegraph office opens in Marshall.
1860
--Cynthia Ann Parker is retaken from the Comanches.
1861
--Texas joins the Confederate States of America.
1863
--Texans win the Battle of Galveston and the Battle of Sabine Pass.
1865
--Civil War ends, freeing all slaves.
1871
--Texas A&M University is established.
1875
--Quanah Parker and Comanches are defeated.
1876
--Voters approve the current state constitution.
1878
--Alfred H. Belo set up the first telephone in Texas btween his home and the Galveston News.
1881
--Voters selected Austin as site of the University of Texas main campus and Galveston for the medical branch.
1887
--Texas League is organized for baseball.
1888
--Present capitol building is completed in Austin.
1893
--First long-distance telephone line is strung between Houston and Galveston.
1894-95
--Austin is lighted by 31 towers of electric lights.
1900
--Texas ranks sixth in nation for population.
--Galveston hurricane kills 6,000 people.
1901
--Anthony Lucas discovers oil at Spindletop.
--John Henry Kirby forms Kirby Lumber Company, the first multimillion- dollar company in Texas.
1902
--Texas Liberty Association established.
1914
--Houston Ship Channel opens.
1917
--Race riot in Houston results in 19 deaths.
--Governor James Ferguson is banned from office.
1919
--Texas approves the right of women to vote.
1925
--Miriam Ferguson becomes the first elected woman governor in the United States.
1930
--Dad Joiner discovered the East Texas oil field.
1932
--Babe Didrickson wins two gold medals and one silver medal at the Olympics in Los Angeles.
1933
--Bob Wheeler was born in Vickery, in Dallas County :).
1935
--Walter Prescott Webb publishes the The Texas Rangers, which helps to establish the Teas myth.1902

1940
--Todd Shipyards on the Houston Ship Channel begins operation in preperation for Worls War II.
1941-1945
--750,000 Texans serve in the military in World War II.
1942
--Texas Medical Center opens.
1950
--Herman Marion Sweatt is the first black person admitted to the University of Texas Law School.
1958
--Jack St. Clair Kilby invents integrated circuits at Texas Instruments in Dallas.
1960
--Dallas Cowboys and Houston Oilers are established as professional football teams.
1961
--Johnson Manned Spacecraft Center opens near Houston.
1962
--Houston Colt 45s (later Astros) become the first major league baseball team in Texas.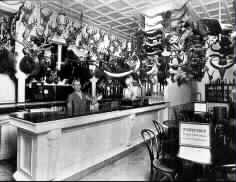 (The Buckhorn Saloon, San Antonio.)
1963
--President John F. Kennedy is assassinated in Dallas and Lyndon B. Johnson of Texas becomes President.
1965
--Astrodome opens as the worlds first air-conditioned stadium for baseball and footbal.
1969
--Neil Armstrong lands on the moon.
1974
--Dallas/Fort Worth Intrnational Airport opens.
1986
--Texas celebrates sesquicentennial birthday.
--Oil prices drop to $10 per barrel and Texas suffers oil depression.
1988
--George Bush of Houston is elected President of the United States.
1990
--Texas ranks third in the nation with a population of 17 million.