THE ALAMO

No one knows how the old mission got its name. In Spanish the word "Alamo" means "cottonwood." Perhaps it was named for a grove of cottonwoods nearby, or maybe by Spanish soldiers of Alamo del Parras in Coahuila, Mexico, who camped there during the Mexican Revolution. The Alamo began as the San Antonio de Valero Mission, founded by Father Antonio de Olivares in 1718. The mission was built in typical Franciscan style, with a large rectangular courtyard, or plaza, covering three acres and surrounded by a stone wall 3 feet thick and 9 feet high. Against three of these walls and facing into the plaza were small adobe rooms, while against the fourth, eastern, wall were a two-story convent and the Alamo chapel. Several large gates opened into the courtyard.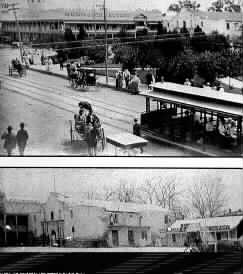 The photo at top, from 1898, shows a bustling Alamo Plaza
with streetcars and horse-drawn carriages. The photo at the bottom, from
1900, shows one of the Alamo Plaza saloons.

Missionary activity later declined, the roof of the chapel collapsed around 1762, and the site was abandoned in 1793. The empty buildings at the mission were used by Mexican soldiers from 1821 to 1835, but they surrendered during the Texas Revolution when "Old Ben" Milam led a attack on the city. Shortly afterward it became a fortress for the Texans. Although destined for eventual restoration as the main feature of the fortress, the chapel at the time of Santa Anna's attack was without a roof and littered with debris. Still, with walls 4 feet thick and 22 feet high the chapel became the last refuge for the besieged defenders. Following the assualt the Alamo was in ruins.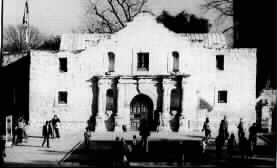 As it looked in 1905 when the City of San Antonio granted control
of the Alamo to the Daughters of the Republic of Texas.

Various owners later made changes and partial restorations to the buildings and surroundings. In 1883 the State of Texas bought the Alamo from the Roman Catholic Church and gave it to the City of San Antonio. In 1905 the city donated it to the Daughters of the Republic of Texas, an historical society that continues to take care of it. The Alamo, in the heart of downtown San Antonio, is considered a revered place of the Texas Revolution and attracts 3 million tourists each year. In 1994 it became the focal point of a local political fight concerning control of the site, expansion of the grounds, and the museum's presentation of Mexican participation in the battle. The Alamo is important, however, not only as a historical reminder of what happened in 1836, but also because it asks all visitors an important question ----for what purpose would you sacrifice your life?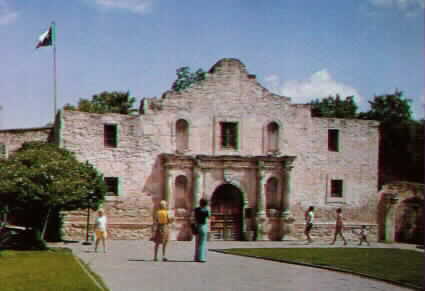 The Alamo as it appears today.

Return to

HISTORY

This site created and maintained by:

Any comments can be emailed to Bob Wheeler at the email address below.